First Meetings: In Ender's Universe (Other Tales from the Ender Universe) (CD-Audio)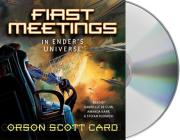 Description
---
Welcome to the Enderverse.

When Orson Scott Card first published "Ender's Game" as a novella in 1977, few would have predicted that it would become one of the most successful ventures in publishing history. Expanded into a novel in 1985, Ender's Game won both the Hugo Award and the Nebula Award for Best Novel. Never out of print and translated into dozens of languages, it is the rare work of fiction that can truly be said to have transcended a genre. Ender's Game and its sequels have won dozens of prestigious awards and are as popular today among teens and young readers as adults.

First Meetings is an audiobook collection of three novellas-plus the original "Ender's Game"-that journey into the origins and the destiny of one Ender Wiggin.

"The Polish Boy" begins in the wake between the first two Bugger Wars when the Hegemony is desperate to recruit brilliant military commanders to repel the alien invasion. In John Paul Wiggin-the future father of Ender -they believe they may have found their man. Or boy.

In "Teacher's Pest"-a novella written especially for this collection-a brilliant but insufferably arrogant John Paul Wiggin, now an American university student, matches wits with an equally brilliant graduate student named Theresa Brown.

It is many years since the end of the Bugger Wars in "The Investment Counselor." Ender's reputation as a hero and savior has suffered a horrible reversal. Banished from Earth and slandered as a mass murderer, twenty-year-old Andrew Wiggin wanders incognito from planet to planet as a fugitive. Until a blackmailing tax inspector compromises his identity and threatens to expose Ender the Xenocide.

THE ENDER UNIVERSE

Ender series
Ender's Game / Speaker for the Dead / Xenocide / Children of the Mind / Ender in Exile / Children of the Fleet

Ender's Shadow series
Ender's Shadow / Shadow of the Hegemon / Shadow Puppets / Shadow of the Giant / Shadows in Flight

The First Formic War (with Aaron Johnston)
Earth Unaware / Earth Afire / Earth Awakens

The Second Formic War (with Aaron Johnston)
The Swarm / The Hive

Ender novellas
A War of Gifts / First Meetings
About the Author
---
Orson Scott Card is best known for his science fiction novel Ender's Game and its many sequels that expand the Ender Universe into the far future and the near past. Those books are organized into the Ender Quintet, the five books that chronicle the life of Ender Wiggin; the Shadow Series, which follows on the novel Ender's Shadow and are set on Earth; and the Formic Wars series, written with co-author Aaron Johnston, which tells of the terrible first contact between humans and the alien "Buggers." Card has been a working writer since the 1970s. Beginning with dozens of plays and musical comedies produced in the 1960s and 70s, Card's first published fiction appeared in 1977--the short story "Gert Fram" in the July issue of The Ensign, and the novelette version of "Ender's Game" in the August issue of Analog. The novel-length version of Ender's Game, published in 1984 and continuously in print since then, became the basis of the 2013 film, starring Asa Butterfield, Harrison Ford, Ben Kingsley, Hailee Steinfeld, Viola Davis, and Abigail Breslin.

Card was born in Washington state, and grew up in California, Arizona, and Utah. He served a mission for the LDS Church in Brazil in the early 1970s. Besides his writing, he runs occasional writers' workshops and directs plays. He frequently teaches writing and literature courses at Southern Virginia University.

He is the author many science fiction and fantasy novels, including the American frontier fantasy series "The Tales of Alvin Maker" (beginning with Seventh Son), and stand-alone novels like Pastwatch and Hart's Hope. He has collaborated with his daughter Emily Card on a manga series, Laddertop. He has also written contemporary thrillers like Empire and historical novels like the monumental Saints and the religious novels Sarah and Rachel and Leah. Card's work also includes the Mithermages books (Lost Gate, Gate Thief), contemporary magical fantasy for readers both young and old.

Card lives in Greensboro, North Carolina, with his wife, Kristine Allen Card. He and Kristine are the parents of five children and several grandchildren.
Gabrielle de Cuir
is a Grammy-nominated and Audie Award-winning producer whose narration credits include the voice of Valentine in Orson Scott Card's
Ender
novels, Ursula K. Le Guin's
The Tombs of Atuan
, and Natalie Angier's
Woman
, for which she was awarded
AudioFile
magazine's Golden Earphones Award.  She lives in Los Angeles where she also directs theatre and presently has several projects in various stages of development for film.
Stefan Rudnicki
is an award winning audiobook narrator, director and producer. He was born in Poland and now resides in Studio City, California. He has narrated more than three hundred audiobooks and has participated in over a thousand as a writer, producer, or director. He is a recipient of multiple Audie Awards and
AudioFile
Earphones Awards as well as a Grammy Award, a Bram Stoker Award, and a Ray Bradbury Award. He received
AudioFile
's award for 2008 Best Voice in Science Fiction and Fantasy. Along with a cast of other narrators, Rudnicki has read a number of Orson Scott Card's best-selling science fiction novels. He worked extensively with many other science fiction authors, including David Weber and Ben Bova. In reviewing the twentieth anniversary edition audiobook of Card's
Ender's Game
,
Publishers Weekly
stated, "Rudnicki, with his lulling, sonorous voice, does a fine job articulating Ender's inner struggle between the kind, peaceful boy he wants to be and the savage, violent actions he is frequently forced to take." Rudnicki is also a stage actor and director.
Amanda Karr
is an award-winning actress and director. In addition to television appearances on
The Guardian
and
Days of Our Lives
, Amanda has played Zelda Fitzgerald in the critically acclaimed musical
Tender
. On audio, she can be heard as the voice of Ender's cyber-friend, Jane, and as Pancho Lane in Ben Bova's Planet series.
Praise For…
---
"His powerful voice and startlingly clear vision will draw many new readers into a lifelong love of science fiction. This accessible collection will impress even non-sci-fi buffs, besides being a must-have for Ender saga devotees." —Publishers Weekly